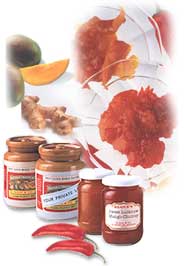 SEN Global's international customers and suppliers have always gained a competitive edge by tapping into the Group's manufacturing, supply & service network. Only we provide such an array of services, including sourcing, product development, quality assurance, scheduling, import/export, shipping and trade finance.
Our trading services cover products and commodities. For the export markets tea & spices to cement and for the import markets fishing tackles & accessories to cardamom. These services help our suppliers and customers both at home and internationally to meet the stringent quality and delivery commitments required in the world market place.
We hold the experience and the attitude to become your full-service global trading partner.









Elque's mango chutney is a vatted blend of superior character and smoothness with a touch of spices. Prepared from mango's known as love fruits in India, our chutneys are created from a finely balanced selection of fruits, which have been matured in the traditional way in oak wood with subtle overtones of selected spices.
The quality of our mango chutney is significantly affected by the ageing process of the raw mango's and selected blend of spices. Every one of the mango's we use have been matured in vats for a minimum period of eighteen months and has been carefully selected in it's prime, giving our chutney a smoothness and quality of its own.
Blending of the mango fruit with a selection of spices and marinated in the golden sugar syrup with caramel to add a natural mellow brown glow is an age old recipe carried down through the generations.

Come join in our sweet and spicy success.